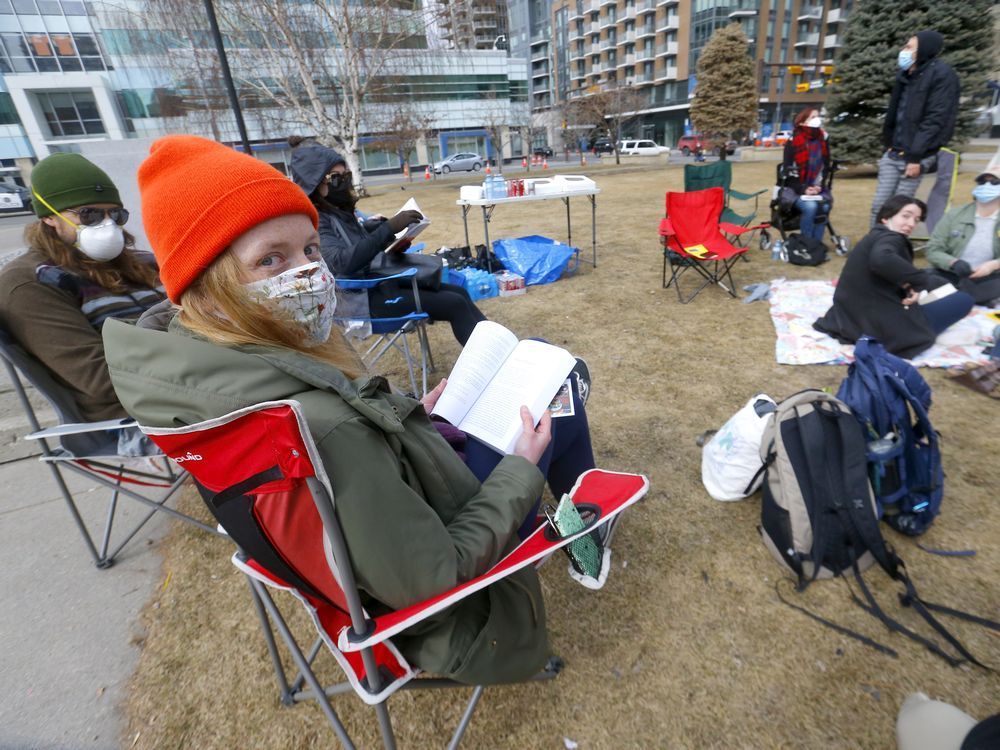 Beltline residents celebrate the end of Central Memorial Park rallies
"We thought that after three weeks of intense conflict and confrontation, this is a good kind of rest."
Content of the article
Beltline residents headed to Central Memorial Park on Saturday to enjoy some peace and quiet on the first Saturday without protesters in months.
Content of the article
Community Solidarity Calgary volunteer and organizer Alyssa Quinney was part of an organized book-reading event in Beltline Park on Saturday. She said they were there to reclaim the area as a place of relaxation and recreation.
"We're just taking back a space," Quinney said. "It's been a place of hostility for a few months, especially for these people from Sheldon Chumir. I've heard horror stories of them being harassed. So we hope to turn the tide and have people just enjoying the park.
Protesters gathering against vaccination mandates, the Trudeau government and many other concerns had gathered in the park by the hundreds, and at times by the thousands. Crowds shouted "freedom" and honked their horns for hours before marching through the Beltline neighborhood for many Saturdays.
Content of the article
But that Saturday, around noon, the park was void of any rallying cries as the loudest noises came from passing cars. Seven days earlier, there was a squad of mounted police on 4th Street facing the large crowd as nearby media reporters were shouted at.
During recent protests and counter-protests, a sign made by community residents that read "Read a book" has gone viral. Quinney said that was part of the inspiration to have a book circle this week.
Besides organized book reading, several families, friends and couples were enjoying the park. Nearly two dozen people read while half a dozen others walked their dogs. Several people commented aloud how exciting it was to be able to enjoy the park again, away from the noise that had become an unwelcome weekly rendezvous for many neighborhood residents.
Content of the article
Michael Rac, who was visiting the park with a friend, said he lived nearby and had actively planned to leave the Beltline every Saturday for the past few weeks.
"There's such a lack of green spaces where Beltline residents can go and just be outdoors, especially a lack of private and personal outdoor space," Rac said. "So having Memorial Park as a place where people feel comfortable and want to be is super important. The last four weeks have been particularly bad.
"I was so pleasantly surprised. We got here around 12:20 and it was just calm and quiet with people reading and it's lovely."
Protesters who rallied against vaccination mandates moved to Olympic Plaza this week before heading down Stephen Avenue towards Harley Hotchkiss Gardens, across from the Calgary Courts Center, and back to the Hotel de town. Calgary police monitored the protests and enforced an injunction in place against several aspects of the rally. The police department said several people received tickets after honking their vehicles in support and at least one person was arrested.
Back in the Beltline, Quinney said she wasn't sure if reading the book would be a one-time event or if it would turn into a weekly event.
"We thought after three weeks of intense conflict and confrontation, it was a good kind of rest," Quinney said.