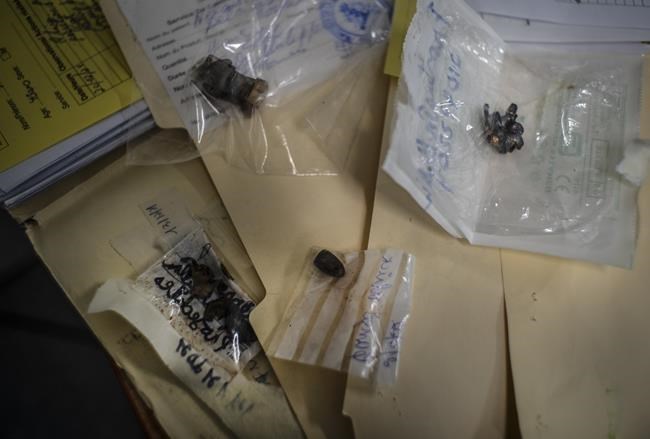 Canada sanctions Haitian officials as MPs say gangs are starting 'civil war'
OTTAWA — Canada is sanctioning two senior Haitian officials for their alleged support of gangs, which lawmakers say exploit children and wreak havoc similar to a civil war.
OTTAWA — Canada is sanctioning two senior Haitian officials for their alleged support of gangs, which lawmakers say exploit children and wreak havoc similar to a civil war.
"The majority of the victimized population (suffers) enormously, is increasingly deprived of the essentials, exposed to growing violence and feels abandoned," said Patrick Auguste, head of an association of young people from the diaspora, at a House of Commons subcommittee meeting on Friday.
Haiti faces a series of intractable crises that have seen hospitals and schools closed during a deadly cholera outbreak and widespread power outages.
It's all made worse by gangs blocking the country's main fuel terminal, leading the government to call for foreign military intervention, despite not having held an election since 2016.
On Friday, Foreign Affairs Minister Mélanie Joly announced sanctions at the same pace as the United States for two senior Haitian officials who allegedly financed gangs in their country.
The new sanctions include Joseph Lambert, the president of the Haitian Senate, and his predecessor, Youri Latortue, whom Ottawa accuses of providing "illicit financial and operational support to armed gangs".
The US Treasury Department was more specific, accusing both of directing cocaine trafficking from Colombia and inciting people to engage in violence.
Latortue dismissed those claims, saying he spoke out against violence and gangs, and that the decision was not subject to due process.
"I have fought corruption and money laundering with numerous public reports," he tweeted. "I will defend myself with the law and the truth."
A spokesperson for Lambert did not immediately respond to messages from The Associated Press on Friday.
At the House Subcommittee on International Human Rights, nongovernmental organizations told lawmakers Friday that gangs are paying desperate Haitians to act in protests and wreak havoc on the streets.
"Due to what we can only call a civil war, there are currently over 100,000 internally displaced people in Haiti," said Morgan Wienberg, leader of the Little Footprints Big Steps group.
Wienberg said "foreign pedophiles" sexually abuse children with impunity because Haiti cannot control "illegal orphanages", a problem that has existed since she moved to the country a decade ago and is has intensified in recent months.
She encouraged Canada to work with civil society groups to stem the issues that drive gangs to recruit children.
"The Haitian government cannot be the voice that foreign governments listen to, because it is very clear that the Haitian government is not acting in the interests of the Haitian people," Wienberg said.
Others testified that Haiti has faced a power vacuum since the end of the Duvalier dictatorship in 1971, leading to zero-sum politics with no consensus on how to govern the country.
Chalmers LaRose, a political science lecturer at the University of Quebec in Montreal and the Royal Military College of Canada, said some of the chaos stemmed from the whims of foreign countries.
LaRose noted that Haiti was economically punished by France for declaring independence in 1805, followed by an American invasion in 1915.
"It was a state completely banned from the rest of the world, for at least a century," he said in French.
He was skeptical of recent comments from US officials that Canada could play a key role in a military intervention.
"Canada must also find its own voice in this crisis and not simply seek to be America's lapdog," LaRose said.
Other witnesses have suggested using drones to shoot gangs or offering a Marshall Plan-inspired aid package that helped rebuild post-war Europe.
The Associated Press reported that there were gunshots around Haiti's main fuel terminal in Port-au-Prince, with the Haitian National Police saying they had made progress in an ongoing fight against the powerful gang. of the G9 which has been blocking access to the site for weeks.
Canada and the United States sent armored military vehicles for this police force.
Prime Minister Justin Trudeau has said Canada needs to help Haiti to some degree, even if that doesn't mean military intervention.
"We look at the crisis, the rapes, the violence, the poverty, the cholera and the health crisis. And then we say to ourselves that we have to intervene in one way or another," he said on Wednesday. to journalists in French.
That evening, he was briefed by his former national security adviser, Daniel Jean, who led a four-day assessment mission last week.
An official reading did not indicate how Trudeau will proceed, but said a cabinet committee "explored a range of options…to support a Haitian-led solution."
Auguste proposed that Canada issue a public apology on behalf of all Western nations for their centuries of interference in Haiti, to help end accusations between the government, gangs and foreign countries.
"What's happening now is everyone is passing the buck to each other," he said.
This report from The Canadian Press was first published on November 4, 2022.
—With files from The Associated Press
Dylan Robertson, The Canadian Press
Note to readers: This is a corrected story. A previous version quoted Patrick Auguste saying that the majority of Haitians suffer a lot.