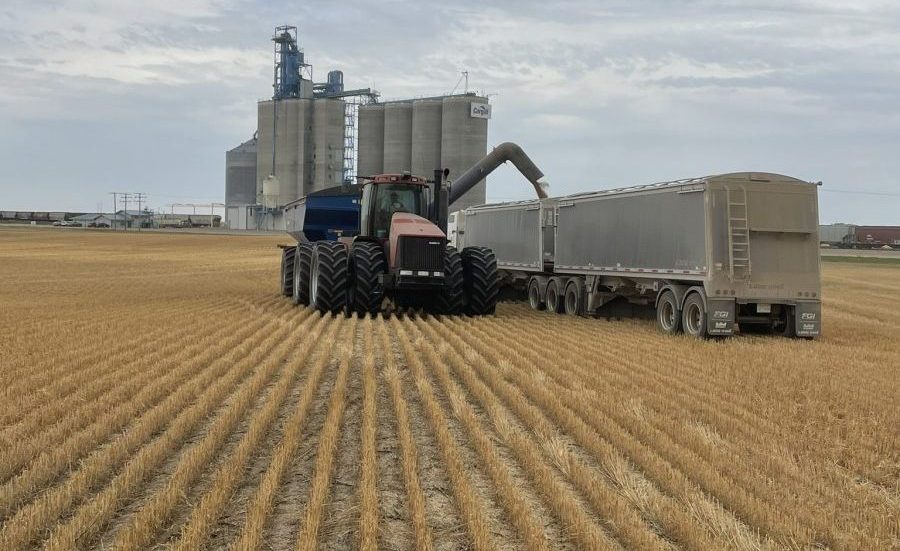 Canadian winter crop production rebounds
CEREAL production in Canada is expected to rebound strongly in 2022 after a severe drought ravaged last year's crop. Statistics Canada released its latest Principal Field Crop Outlook on August 29, indicating that greatly improved growing conditions for most of the Prairies will likely result in a much larger crop than expected.
Production projections in the latest report are derived from predictive modeling based on field conditions at the end of July. The yield model uses satellite imagery and agroclimatic data, which is then applied to previously announced planted acreage estimates to arrive at production projections for each commodity.
According to Statistics Canada, the Crop Condition Assessment Program shows that overall plant health on the Prairies was normal to above normal at the end of July, indicating the potential for average to much higher yields than the mean. With generally favorable weather conditions throughout August, confidence in production has increased.
East-West Spring Mix
An evaluation of the Normalized Difference Vegetation Index (NDVI) curves in late July found that most areas of western Canada exceeded typical NDVI values, despite a somewhat delayed start to the season in some regions. Parts of the western prairies were too dry for timely planting as drought persisted, particularly in southern Alberta, and other parts of the country, such as Manitoba, were far too wet to consider planting. early in the spring.
According to the Statistics Canada report, Canadian farmers will harvest 34.5 million tonnes (Mt) of wheat in the 2022-23 season, a year-over-year increase of 55.1% over 21.65 Mt produced last year. If it lands in the bin, it will be the third-largest wheat crop since records began in 1908, just short of the 2020-21 bounty and 3Mt less than the 37.6Mt harvested in 2013.
The total area sown to wheat for the current season is estimated at 10.35 million hectares (Mha), of which 10.14 Mha is expected to be harvested. These are higher than in 2020-21, when planted area was 10.19 Mha and 10.02 Mha was harvested. This leaves room for production this season to exceed the 2020-21 benchmark of 35.18 Mt if favorable conditions persist during harvest.
Durum production is expected to be 6.27 Mt this year from 2.38 million hectares harvested and an average yield of 2.63 metric tonnes per hectare. This compares 2.65 Mt from 1.23 million hectares and an average yield of 1.23 t/ha last season. Winter and spring wheat production is forecast at 28.24 Mt with an average yield of 3.64 t/ha across the country and a harvested area of ​​7.76 million hectares. Production, yield and harvested areas in 2021/22 were 19 Mt, 2.68 Mt/ha and 7.09 million hectares.
Canola regains world leadership
Canada's second-largest winter crop is canola, and production this season is expected to rebound more than 46%, according to StatsCan. Production is set at 18.4 Mt, compared to just 12.6 Mt in the last harvest, once again stabilizing Canada as the world's leading producer. Harvested area is actually expected to increase from 9 Mha to 8.6 Mha, but predictive modeling from StatsCan resulted in an average yield of 2.14 t/ha. This appears to be a relatively conservative number, being significantly lower than the five-year pre-drought average. The crop decimated by last year's drought yielded 1.4 t/ha.
According to StatsCan's June seeded acreage survey, Canadian farmers planted 2.85 Mha of barley this season, the lowest in four years. This compares to 3.36 Mha last year and 3.06 Mha in 2020-21. However, this year's yield projection is 3.62 t/ha, nearly 57% higher than the 2021-22 average yield of 2.31 t/ha. All of this brings 2022-23 barley production to 9.4 Mt, 35.3% higher than the 6.95 Mt produced last year, but well below the 10.74 Mt produced in 2020-21. .
Anticipation of malting
A return to more normal production and more comfort around future beer sales has the Canadian malt industry excited. It is expected that there will be good demand for the collector as the pipeline is empty and the quality looks good, as long as the harvesting weather remains favorable. However, September rains could significantly change the quality outlook for malting barley, and early fall frosts are also a concern as much of the harvest is late due to late planting.
Oats is the other major cereal crop in Canada, and production is forecast to increase by 75.9 bp to 4.6 Mt. The increase in expected harvested area from 1.11 Mha to 1.31 Mha is minimal , but the 49.6 pc jump in yield from 2.34 t/ha to 3.5 t/ha is spectacular.
High yields
As for legumes, dry peas and lentils are attracting the most attention and the resumption of production is massive. Dry pea production is forecast to increase by 46% year-on-year to 3.3Mt due to a 10% decrease in harvested area but a 64% increase in yield. Lentil production is expected to increase from 1.6 Mt to 2.46 Mt, with yield doing all the work, up 52%, on unchanged harvested area.
The dramatic turnaround in Canadian wheat production is good news for global supplies. Production was reduced by extreme weather conditions in some of Europe's main producing areas, drought in parts of the United States and ongoing Black Sea shipping issues, which are expected to keep exports from the region well. below average in 2022-23.
Export Task Challenge
The USDA listed Canada for wheat exports of 26 Mt in its August report, up from 25 Mt in July, but more significantly, up from 15 Mt in 2021-22. Barley exports are set at 3 Mt, down from 1.9 Mt last season, and canola exports are forecast to increase from 5.2 Mt in 2021-22 to 8.8 Mt in marketing year 2022- 23.
But with the bumper harvest, there are fears that problems in the country's rail system, essential for moving grain to port, could limit export capacity over the next 12 months. The country's two main rail freight operators struggled to transport last year's harvest due to disruption from floods, wildfires and extreme heat. With an enormous export task ahead of us over the next 12 months, it will be crucial that Canada's rail network returns to full operational capacity.
Grain Central: Get our free news straight to your inbox –
Click here