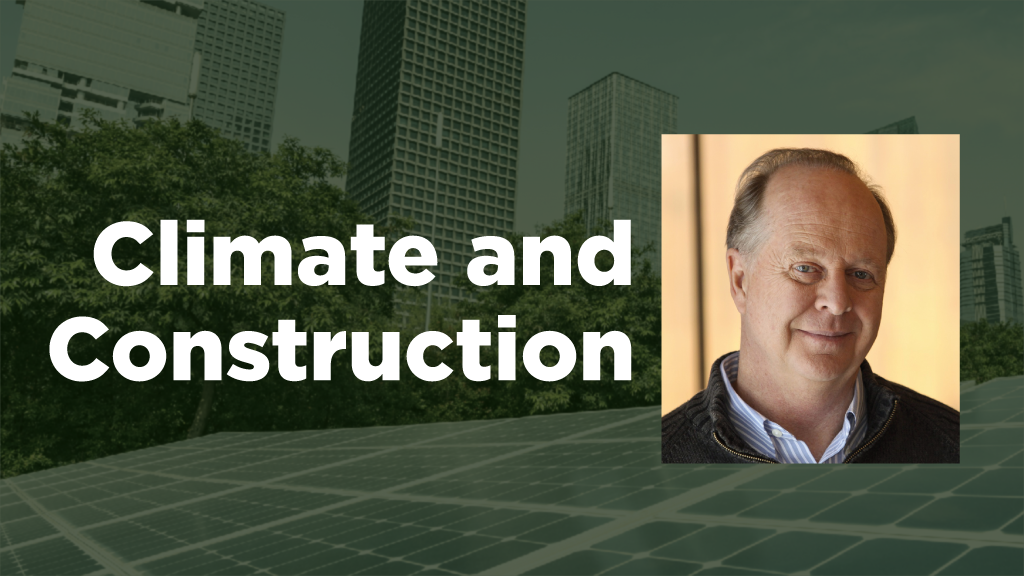 Climate and construction: construction should not wait until 2030 or 2050
[ad_1]
Actions speak louder than words. Yet what we hear from world leaders regarding climate change are mostly words about more action.
There has never been a more urgent problem than global warming and its impact on the future of our planet. However, the world has been faced with a revolving door of GHG reduction targets and future funding commitments, which repeat themselves again when they fall short. Given the 40% contribution to global greenhouse gases (GHGs) from construction and buildings, can industry afford to wait for definitive action from our governments?
This new section will examine how construction and construction operations can be proactive towards the goal of reducing GHGs, and how parties throughout the project decision chain can work with willing levels of government to act.
There are good examples of affirmative action.
According to a report by Bloomberg, "Twenty-five major US cities are on track to collectively reduce their greenhouse gas emissions by 32% by 2025, exceeding the targets of international climate agreements.
In Canada, Toronto, Vancouver and Hamilton have adopted tough energy efficiency initiatives to tackle GHG emissions. Five hundred other municipal and regional jurisdictions have declared the climate emergency.
With Canada having the third highest level of GHG emissions per person in the world, what additional motivation does the country's construction industry need to act?
At the same time, multiple advancements have been made in materials, design, construction and operational processes that can measurably reduce GHG emissions. However, there are several bottlenecks for progress.
For example, building codes for new and existing structures lag behind current knowledge and understanding of building science. The 2020 National Building Code is very late, it is now not expected until spring 2022. The development of Canada's existing modified building code, currently managed by committees of volunteers, could take nine years. Both lack accountability from the federal department. And as provinces and municipalities develop their own codes aimed at higher standards, they are calling for harmonization across jurisdictions.
This is not to say that Canada lacks organizations and individual businesses that are enthusiastic about doing what is clearly the right thing. What appears to be missing are two elements: coordinated action by all groups working together and a federal government ready to take positive action.
As a sustainable development consultant Julie godefroy writes, "There is a plethora of resources and enthusiasm in the industry. To bring all of this into consistent standards, to reach the entire industry quickly and to avoid penalizing market leaders, regulation is needed. "
However, there is still a lot that the construction industry in Canada can do in the meantime.
Analysis tools like See far are available to designers to show homeowners how taking an efficiency-driven approach to new projects or major renovations provides a solid and predictable financial return on investment beyond the obvious environmental benefits. Designers, builders and contractors working together can also perform embodied carbon assessments of the material procurement, assembly and construction processes.
Canada is not alone in its conflict between those in the industry who want to better design, build and operate, and the obvious legislative void. We can look across the Atlantic to the UK where similar calls for government action can be heard.
The Canadian construction industry may well benefit from encouragement from Colin Wood, Managing Director of AECOM Europe.
"The scale of the challenge demands that everyone play their part, bringing their best skills and talent to the table," Wood recently wrote in building.co. "It is our industry that will need to provide many solutions to quickly support customers and communities on their journey to net-zero. Without a doubt, the greatest impact will be felt through our collaborative and widespread action. "
In other words, while pressure must be put on federal and provincial politicians to take the necessary steps to back up their words, the construction industry does not have to wait.
Of all the people who have spoken on this point, it is somewhat ironic to read the editorial by HRH Prince Charles in a recent issue of The Globe and Mail.
"For me, the private sector holds the key. I'm not sure we listen to them enough.
John Bleasby is a freelance writer based in Coldwater, Ontario. Send your comments and column ideas on climate and construction to [email protected]
[ad_2]