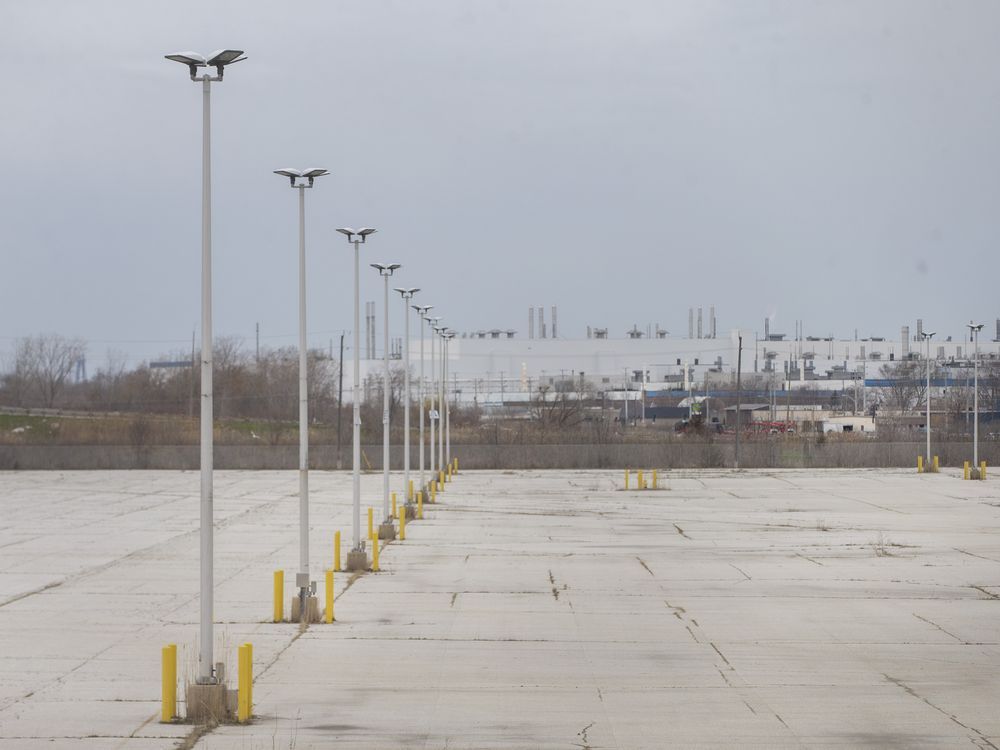 Company pays $11.8 million for 27-acre site off Central Avenue
Content of the article
E-commerce giant Amazon has purchased land in Windsor to build its first fulfillment center in the area.
Content of the article
According to RealTrack Inc., which publishes information on commercial real estate transactions in Ontario of $500,000 and more, the Seattle-based company purchased 27.24 acres (11 hectares) in Greater Central Business Park for $11,836,487 this this month.
The business park is a ready-to-start site owned by Rosati Construction.
On Friday, Amazon officials did not respond to a request for comment on the Windsor project. Rosati officials also declined to comment citing a nondisclosure agreement with Amazon.
This is great news for Windsor Essex
Sources told the Star that Amazon's warehouse is expected to be around 200,000 square feet and employ around 300 people. Construction of the project is expected to start in May.
Amazon's facility will be located at the western end of the business park near Central Avenue. It adjoins the CN and CP rail yard which runs parallel to the EC Row freeway.
Content of the article
The site was formerly the location of Chrysler's Pilette Road truck assembly plant, which was closed in 2003 and then demolished.
While Amazon is currently building a large fulfillment center in the London area, the Windsor site is expected to focus more on serving the local area.
"It is validation that the municipality and region are on a growth trajectory," said Stephen MacKenzie, CEO of Invest WindsorEssex. "They don't put these centers in areas that are in decline.
"They locate them in specific size markets based on geography, proximity to growing markets and large population centers. This is great news for a global company to invest here and not serve the region elsewhere.
MacKenzie added that Amazon's decision to come to Windsor was made before the community could land the new LG Energy Solutions/Stellantis battery plant.
Content of the article
"This is great news for Windsor Essex," said Windsor-Essex Regional Chamber of Commerce CEO Rakesh Naidu.
"This region has solid assets to meet the needs of the warehousing and transportation sectors. This is a great first step for Amazon.
"Once they are here and see the opportunities this region offers, it will lead to further expansion."
Naidu said Amazon's investment also contributes to the goal of diversifying the local economy and providing different types of job opportunities.
"We don't want an economy that is focused on just one sector, no matter how good it is," Naidu said.
"Transportation and warehousing are sectors where we are seeing a marked increase in demand. This will provide an employment opportunity for those who are not in manufacturing or in the skilled trades.
Content of the article
"It will help diversify the economy, employ young people and different types of workers with different skills."
With the region's logistics industry already well developed to meet the just-in-time demands of the automotive industry and the logistics and IT/IT programs being taught at post-secondary institutions in the region, Naidu sees opportunities for Amazon to collaborate locally and have access to talent.
"I hope this is the start of more investment and greater opportunities here," Naidu said. "It will provide another place to go for these logistics graduates.
"As they dip their toes in the water here, I think the business will find there are more benefits here than just for a fulfillment center."
twitter.com/windstarwaddell