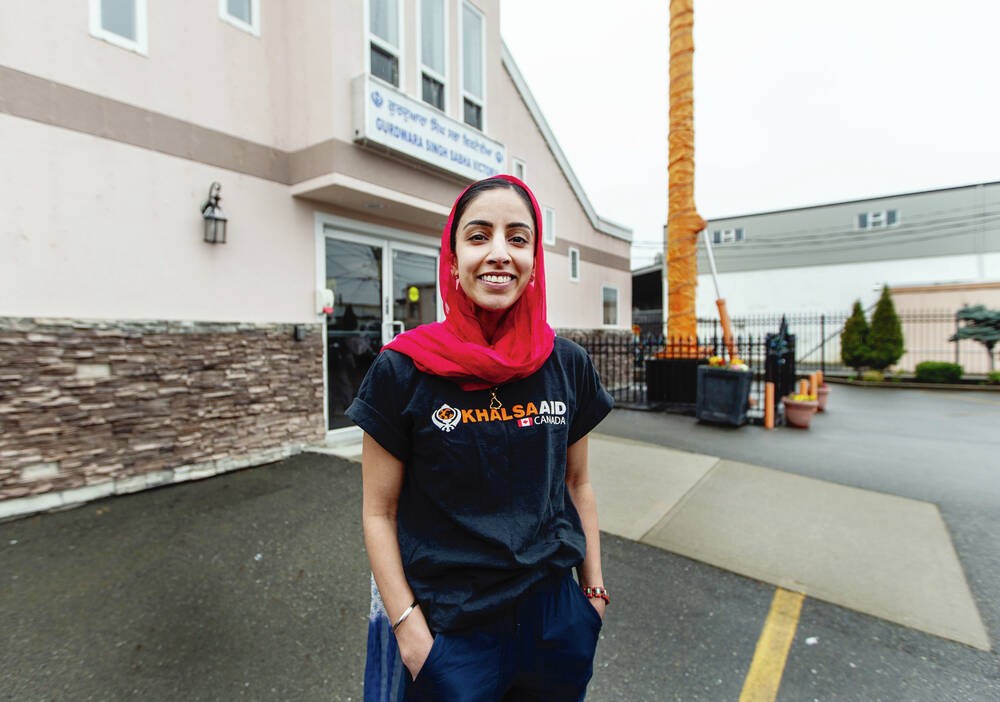 Go to Poland to help Ukrainian refugees
A Sikh humanitarian group asked for volunteers on Sunday, she leaves on Thursday
What would you do if your Walter Mitty daydreams came true and you had the chance to do something good?
Upneet Kaur Bassi did not hesitate. When the Sikh humanitarian group Khalsa Aid Canada asked for volunteers to help Ukrainian refugees in Poland, the 32-year-old's arm went up. "Before I knew it, I was booked on a flight."
It was Sunday. On Thursday, she will leave Victoria to join five other Canadians for a week-long stay as part of a Khalsa Aid operation in which war-torn Ukrainians transition from the border area to a 7,000-bed facility in Warsaw.
With just four days to spare, Bassi scrambled to prepare. "My cousin married a Polish girl, so I called her and said, 'Tell me how to say thank you, sorry and bathroom.' "
The details of her functions remain unclear, but that does not discourage her. "I will arrive ready to work," she said. "I will do exactly what I am asked to do."
Even with the uncertainty of diving into a dynamic situation, Bassi, who is working on a master's degree at UVic, didn't hesitate.
Many of us, while watching television news footage of the world going awry, might toy lazily with the idea of ​​stepping in to help – "I often think 'I want to do something,'" said Bassi on Tuesday – but how many would actually take the leap if given the chance?
Doing so, reacting to a crisis with some form of tangible action, is a powerful impulse for some people. It took Vancouver Island residents less than two weeks to fill a shipping container with medical supplies bound for Poland.
Lia Butler from Colwood found giving away money wasn't enough, she needed to do something more practical, so she spent the last month making perogies which she sells to raise funds that she sends to kyiv, where she was a child.
Hundreds of families on Vancouver Island have expressed their willingness to welcome Ukrainians seeking refuge in Canada.
We are gradually gaining insight into this latter process. At the Ukrainian Cultural Center in Victoria on Tuesday, office manager Victoria Grando said she was told Ottawa would pay for airfare for Ukrainians coming to Canada under a new travel authorization from emergency.
These people will also have their medical expenses covered once here. So does the cost of quarantining them for two weeks after arriving at three designated airports in Vancouver, Toronto and Montreal, Grando said.
Note, she said, that Ottawa only pays those bills for those arriving under emergency travel measures. Those arriving on visitor visas must still pay their own fees.
The cultural center asks people interested in welcoming refugees to no longer register on ukrainehelpvi.ca, the site that brings together everything related to Ukraine on the island.
Instead, individuals wishing to host Ukrainians, offer them jobs, act as translators or provide other services should go to the Ukrainian Canadian Congress website at ucc.ca and click the red I WANT TO HELP.
Some of that help will come through Khalsa Aid, the group Bassi volunteers with. The international organization has engaged in humanitarian crises since 1999, when it was established in Britain.
His first project involved helping people who had fled war-torn Kosovo to Albania. Since then he has floundered in places such as Kenya and Madagascar during a famine, Indonesia after a tsunami and Iraq after Syrians fleeing war in their home country settled there.
Among the group's founders in Britain was Jindi Singh, who now lives in Victoria and is the national director of the Canadian body.
During the pandemic, the Victoria chapter of Khalsa Aid provided groceries to people isolated by quarantines or who simply felt too vulnerable to leave their homes.
Drawing on a base of 100 volunteers, the local group also provided meals to local first responders and sent aid to food banks. Through the Victoria Immigrant and Refugee Centre, he provided culturally appropriate food to 200 families from around the world.
He directed aid to groups like Victoria Women's Transition House, 1Up Single Parent Resource Center and Threshold Housing Society.
Late last year, the Victoria Chapter partnered with Helijet-connected Helicopters Without Borders to ship 1,600 pounds of produce and 1,700 pounds of milk to an Indigenous community cut off by devastating storms that swept away the highways and railroads in the interior of British Columbia.
All of this is rooted in the Sikh belief in equality and unity, and in the concept of nishkam — selfless service – which is at the heart of faith.
It's time to step up.