HAL'S HEADLINES: Manitoba Needs a Seniors Advocate
Content of the article
Manitoba should follow the lead of other provinces and establish a Seniors Advocate. Especially after news this week that two nursing aides have been placed on paid leave after allegations of abuse at a Winnipeg care home. Whistleblowers came forward as early as February to say things were happening at Extendicare's Oakview Place that shouldn't be happening. The Winnipeg Regional Health Authority and Winnipeg Police are investigating. And then there's also what happened in some of those homes during the pandemic. We need to protect our senior citizens, because so much of what we have is thanks to them. I agree with NDP Leader Wab Kinew when he says we need someone to hear the complaints of seniors and then fight for them.
Content of the article
POLLOCK AT 100 YEARS
Happy birthday to Pollock Hardware who turns 100 this weekend. It opened in 1922 at 1407-Main Street and for 85 years supplied the community with general hardware and household items. It closed in 2007 when Wayne and Lois Cash retired after being unable to find a buyer for the business. That might have been the case for Pollock, but the community reopened the store as a co-op that continues to operate to this day. Congratulation on a good run and here are another 100 years!
Content of the article
PRIDE OF THE PRAIRIES
With Canada Day less than a week away, I thought I'd share with you a great way to celebrate the country's birthday while preserving some of its history. Red Bomb Fireworks sells a fireworks kit called Prairie Pride with a portion of the proceeds going towards preserving agricultural history. This year the money will be used to relocate and preserve the Grain Officer's office at Tyndall Elevator which was recently demolished. It is transferred to the Pioneer Village Museum in Beauséjour. You can find out more about the kit at RedBomb.com.
Content of the article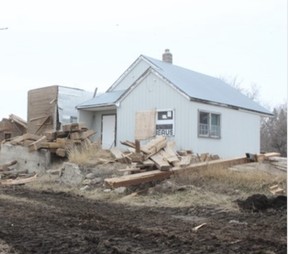 A HEALTHY BALANCE
A better balance can be the key to a longer life. Middle-aged people who cannot stand on one leg for 10 seconds are almost twice as likely to die within a decade. Brazilian scientists say the simple balance test should be part of an older person's regular checkups. Experts say the balance remains fairly stable until we are in our 50s, then it begins to decline rapidly.
Buckle up
The pandemic has heightened road anxiety. In fact, two-thirds feel more anxious in cars today than before COVID-19. A new survey of 2,000 people also reveals that 63% of people in relationships admit they get nervous when their partner drives.
MATE MATING
Tiny eight-legged creatures have sex on your face while you sleep at night, according to new research. The University of Reading in the UK says these mites are invisible to the naked eye, but live on the skin of all humans. And in the eerie swinging version of the bug world, the mites cling to our hair as they copulate. By the way, the number of mites on our body increases as we age as our pores get bigger.
"Hal wrote columns for years. He also hosts Connecting Winnipeg weekday mornings from 10 a.m. to noon at 680 CJOB. You can email him at [email protected]