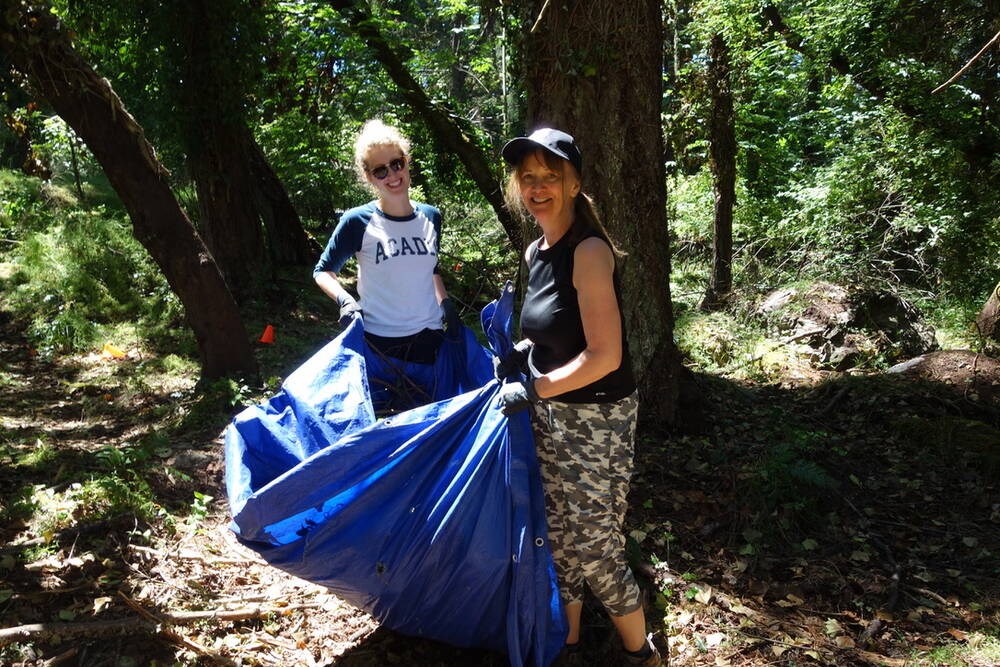 Our Community: Artists Wanted, Green Teams Tear Down Invasive Plants
Call for Artists for Commercial Alley Local artists are invited to submit proposals to exhibit their work in what will be the Commercial Alley Outdoor Art Gallery's 10th annual installation.
Call for Artists for Victoria's Commercial Alley
Local artists are invited to submit proposals to exhibit their work in what will be the Commercial Alley Outdoor Art Gallery's 10th annual installation.
The competition is open to individuals and teams and successful applicants will receive a $4,000 fee. Artists must live in the Capital Region, which includes the Gulf Islands.
"Victoria is known as a creative city full of opportunity," said Victoria Mayor Lisa Helps. "Continuing to provide outdoor exhibition spaces for artists in Victoria not only supports our local creative communities, but also helps create a city rich in inspiration and joy. »
The proposed artwork must be presented as a series of four panels measuring 1.2 meters by 2.4 meters. The artist can cut and reshape the panels within the structural limits. The work will be exhibited from October to August. The outdoor art gallery is located between the 500 block of Yates Street and Bastion Square.
Interested artists are invited to attend an online information session from 5:30 p.m. to 7 p.m. on Wednesday. Register for Commercial Alley Art Gallery on Eventbrite.
The deadline for submissions is July 22 at 4 p.m. All submissions and accompanying documents must be uploaded electronically to victoria.bonfirehub.ca. Hard copies of the expression of interest will not be accepted.
• For more information, go to victoria.ca/commercialalley.
Webinar to explore public transit challenges and strategies for people with dementia
An upcoming webinar hosted by the Alzheimer Society of British Columbia will offer tips to help people with dementia navigate the public transit system.
Wednesday's webinar will explore some of the challenges and strategies of using public transit when living with dementia.
"An inclusive transit system not only provides a safe environment, but also creates opportunities for the public to be more aware of signs indicating when people can benefit from additional support," said Sana Aziz, Provincial Coordinator. dementia-friendly communities at the Alzheimer Society of British Columbia
"When people understand dementia-related behaviors and have the tools to help them, they are more able and willing to lend a hand to create an accessible and inclusive transit experience for all riders."
Additional webinar sessions will focus on brain health (July 20) and how to support a friend with dementia or who is a caregiver (July 27).
To register for the free online session at 2 p.m. on July 13, go to alzbc.org/transit-dementia.
• To learn about other upcoming webinar topics, visit alzbc.org/webinars.
Green teams pull out invasive plants
Green Teams Canada volunteers removed approximately 3.5 cubic meters of invasive plants – the equivalent of approximately 22 bathtubs in volume – from the grounds of the University of Victoria's Queenswood campus two weeks ago.
The cleanup event was made possible through a partnership between Green Teams Canada and the Office of Campus Planning and Sustainability at the University of Victoria.
It was the charity's third visit to campus since April. In total, they removed about 38.5 cubic meters of invasive species as well as English ivy from nearly 90 giant trees. They plan to return on July 23.
Grean Teams of Canada says habitat restoration helps build climate resilience and contributes to biodiversity. Volunteers can also spend time connecting with each other and with nature.
Everyone is welcome, regardless of age or level of experience. Tools, training and snacks are provided to all who come to participate.
The group can be found on Facebook and Instagram.
Firewood Supports Big Brothers, Big Sisters
Mosaic Forest Management donates funds raised through the sale of firewood permits to support the work of Big Brothers Big Sisters of Central Vancouver Island.
The logging company matched proceeds from permit sales through a matching contribution to donate $20,000 to Big Brothers Big Sisters, which helps provide supportive relationships for youth.
"As a former Big Brother, I know mentoring programs can change lives, and I'm proud to be able to make this commitment to Big Brothers Big Sisters of Central Vancouver Island," said Jeff Zweig. , President and CEO of Mosaic. "At Mosaic, we are passionate about giving back to the communities where we live, work and play and this contribution through our firewood permit sales will benefit many young people in the communities in which we operate."
Hundreds of firewood permits are sold each year on Mosaic's managed forest lands, allowing local communities to access affordable firewood for personal use, while generating funds for a deserving organization at home. benefit local communities.
Currently, more than 30,000 young people across the country are waiting for mentors. Studies show that supervised children and youth experience higher levels of self-esteem, have better social and coping skills, achieve greater positive school adjustment, and other benefits.
Mosaic's donation will focus on developing core programming and expanding the reach of Big Brothers Big Sisters in central Vancouver Island.
To learn more about Mosaic's sponsorship and donations program, visit mosaicforests.com/donations-and-sponsorships-application.
Langford golfers help over 40 charities
This year's Town of Langford Mayor's Charity Golf Tournament saw over $202,000 raised for over 40 Langford charities.
The event, now in its 26th year, was held at the Westin Bear Mountain Golf Resort and Spa on June 23.
"Langford has always been a family-oriented, recreation-oriented community," said Mayor Stew Young. "Many of the charities and organizations supported by this event have struggled tremendously throughout the pandemic while continuing to do important work in our community. It is thanks to the generosity of our sponsors and the local development community that make this event possible each year.
This year, new charitable causes added to the list include Humanitarian Aid for Ukraine, the Youth Environmental Stewardship Program, Langford Youth Sports Expo, Mill Bay and District Conservation Society and the Victoria Conservatory.
Over the past 26 years, the tournament has raised over $1.2 million for local charities and community organizations.
Victoria Foundation grants boost dozens of nonprofits
The Victoria Foundation has announced more than $4.32 million in funding for 191 non-profit organizations through its annual Community Grants program.
The amount represents a 38% increase over last year's grant program and provides local organizations with flexible general operating funds to meet immediate needs and build long-term resilience.
"This is an opportunity for the foundation to listen and respond to our community," said Sandra Richardson, CEO of the Victoria Foundation. "Thanks to the generosity of our region, we can work together to strengthen organizations working to build a vibrant and caring community for all.
This year, the focus was on direct support for Indigenous, Black, People of Color and 2SLGBTQIA+ people, women, children and youth, people with disabilities and newcomers.
Additionally, the program offered flexible operating funding so nonprofits could apply in areas where they needed it most, including staff support, technology upgrades and day-to-day programming.
The foundation says its staff strives to ensure an equitable distribution of grants across the region and sub-sectors. In 2021, the Victoria Foundation awarded over $20 million to 549 organisations.
To see a list of organizations funded through the 2022 Community Grants Program, visit victoriafoundation.bc.ca/community-grants-program-distributions-2022.