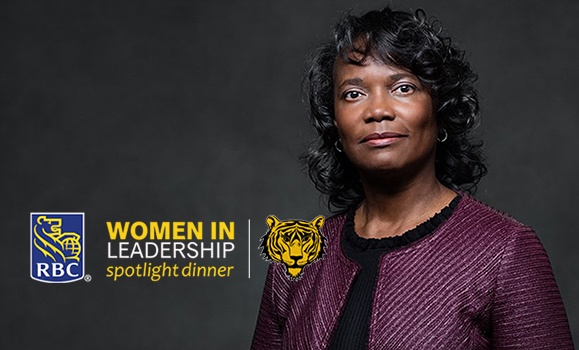 RBC Women in Leadership Dinner – Dal News
[ad_1]
(Halifax, NS) – The Dalhousie Tigers women's basketball and volleyball teams are pleased to announce the return of the Women in Leadership dinner after a year-long hiatus due to the COVID-19 pandemic .
The 11the The annual event will take place on Wednesday, December 1, 2021 with special guest speaker Candace L. Thomas, QC, Deputy Minister of Justice and Deputy Attorney General of Nova Scotia and will be sponsored by RBC.
RBC has been and remains engaged in several impactful community initiatives, including Women in Leadership. This year's event will mark RBC's first year as a Principal Partner.
"The Women in Leadership Dinner is a fantastic example of student-athletes gaining hands-on work experience, skills development and networking, and aligns perfectly with our goals of helping young people through RBC Future Launch. Said Vinita Savani, Regional President, Atlantic Provinces, RBC. "We are delighted to be the presenting sponsor of this event and look forward to hearing from such a valued guest as Ms. Thomas. It will certainly be an evening filled with inspiration and celebration.
This year's event will take place in the McInnes Room at the Dalhousie Student Union Building starting at 6 p.m. and will include a panel discussion with a special guest Candace thomas and members of the women's basketball and volleyball teams.
A native of East Preston, Nova Scotia, Thomas is a graduate of the Schulich School of Law in Dalhousie and served as Chairman of the Board of Governors of Dalhousie University. She practiced corporate law in the Halifax office of Stewart McKelvey prior to her appointment as Deputy Minister of Justice and Deputy Attorney General of Nova Scotia in April 2020.
"I am honored to be a part of this special event celebrating female leadership and to have the opportunity to return to campus and engage with our next generation of inspiring women leaders," said Thomas.
The evening will begin with a pre-dinner reception, followed by dinner and team presentations. A roundtable will follow with athletes asking questions of our special guest. She will also have the opportunity to ask questions of the athletes.
"We are delighted to once again be able to host this great event," said women's basketball head coach Anton Berry. "It's a wonderful evening and an incredible opportunity for us to showcase all of the incredible work of our student-athletes on the field, in the classroom and in the community. We are delighted to have Ms. Thomas as a special guest who will undoubtedly inspire us with her personal and professional journey.
Tickets go on sale Monday, November 1, 2021.
[ad_2]