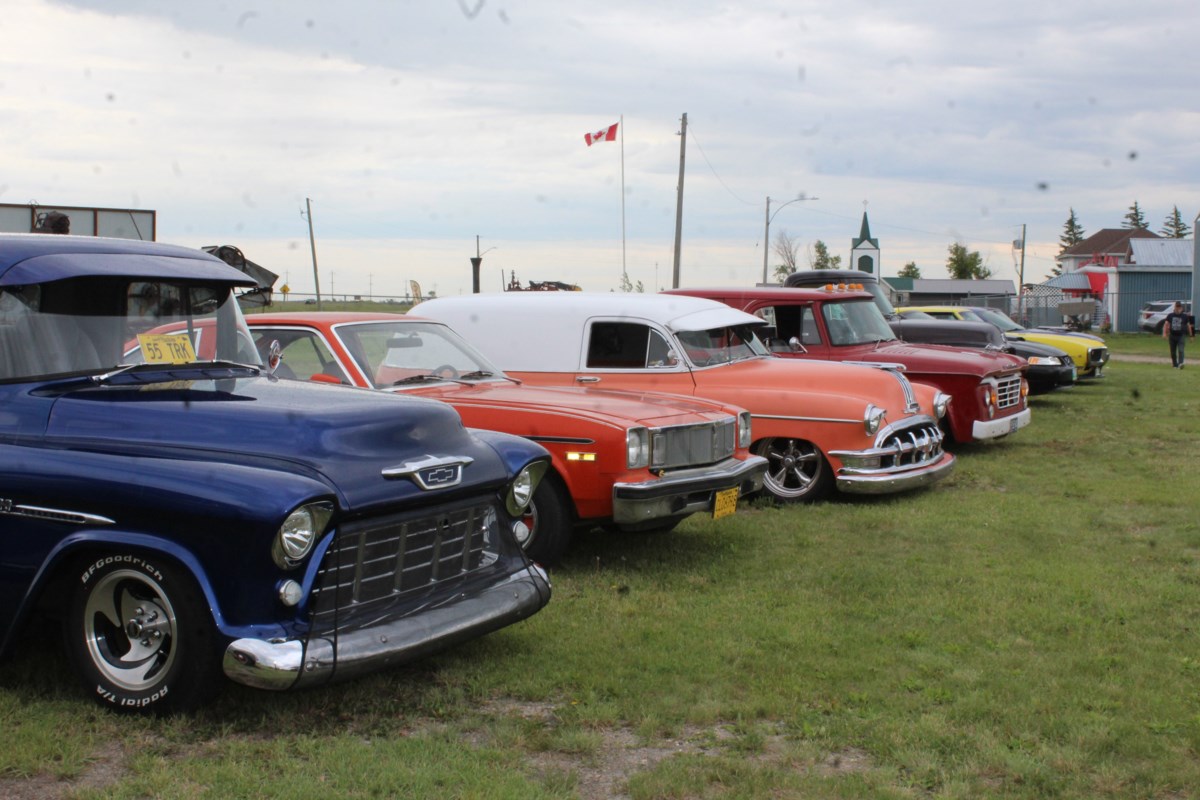 Super Run visits the Elkhorn Motor Museum
The sight of classic and antique vehicles lined up at the Elkhorn Motor Museum drew a crowd.
The Super Run is Canada's largest classic car show that rotates through all three prairie provinces.
The local Brandon chapter is The Brandon Road Rebels who are well known in Westman for their monthly show and shine in downtown Brandon on Rosser Ave.
This year the Super Run is in Brandon and organizers have included convoys of day trips to various small museums in Westman.
On Monday, July 25, a parade of thirty cars came out at the Elkhorn Antique Auto Museum.
The cars were greeted by a local military vehicle collector, forming two long rows for easy viewing, with several opening their hoods for engine inspection. There were the big bodies of the 60s and 70s, muscle cars, hot rods, half-ton trucks, vintage and beloved, with many long-gone model names that our parents and grandparents swore by.
The display drew traffic from the Trans-Canada Highway, curious to see what was going on. Some also visited the Elkhorn Motor Museum and its other restored buildings such as the old one-room schoolhouse, the turn-of-the-century farmhouse (Eaton's mail-order house) and the newest addition, the century-old church relocated from the nearby community of Kirkella.
The midday lunch was prepared by the museum's "Restoration Club", a group of community members who work behind the scenes at museum events and restore many of the museum's vehicles and farm machinery.
Lunch included sandwiches, salads and desserts and one of the Super Run drivers said it was like going to grandma's – so many different desserts on offer.
Visitors enjoyed seeing the old tractors and farm equipment that their families had used in the past. Two drivers from Brandon were happy to see some vehicles from the museum's collection that they had donated. A comment on the cleanliness of the museum's car exhibits was well received by summer staff.
At 2 p.m., the Super Run returned to Brandon. Allen Thio, an active member of the Brandon Road Rebels, said: "We had a great day and were impressed with the variety of cars. And if you receive other donations, you will have to expand the museum. Lunch and hospitality were wonderful. , and the staff was helpful. Our group had a great visit and we look forward to visiting in the future.