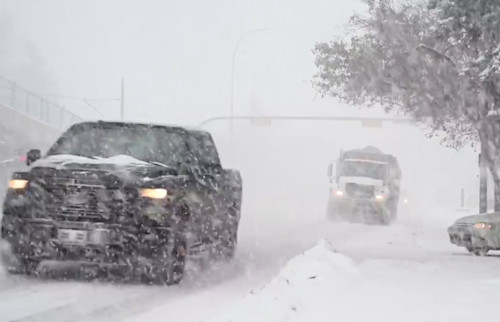 The Weather Network – Blowing snow likely to hamper travel in parts of the Prairies
Monday, March 7, 2022, 5:35 p.m. – High winds and snow will continue to make travel difficult in parts of the Prairies this week.
This winter, a familiar pattern repeated itself across the Prairies: snow and strong winds accompanied by extremely cold temperatures. This week is no exception.
A cold front collapsing across the Prairies contributes to snow flurries and strong winds. As the front continues to advance south and the associated low tracks southeast, flurries of convective snow can be expected across the Prairies.
---
Visit our complete spring 2022 guide for an in-depth look at spring predictions, tips for planning it, and more!
---
While all three Prairie provinces will be affected, the heaviest snowfall will be concentrated in the southern foothills of Alberta.
"With additional lift thanks to the Rocky Mountains, these convective snow squalls could even produce an isolated flash or two on Monday late afternoon or early evening over the far southern foothills," says Kelly Sonnenburg, meteorologist at The Weather Network.
Generally a few centimeters at most are expected, but along the southern foothills 5-25cm of snow is expected through Tuesday.
Accompanying the snow, there will be strong winds. Gusts of 50 to 70 km/h are expected over Alberta and Saskatchewan through Monday, with the strongest winds concentrating over Saskatchewan and Manitoba on Tuesday.
"Brief but intense snow bursts can lead to difficult and hazardous travel conditions, which will need to be adjusted accordingly when you encounter this active weather," adds Sonnenburg.
Well below seasonal temperatures are expected mid to late week for the Prairies as a transpolar flow will provide some arctic air passages from Siberia. Temperatures will be 10 to 15 degrees cooler than the season, or even lower than the season for January.
However, milder air will spread across southern Alberta this weekend, and the freezing weather will ease and become more changeable next week across the region.
Watch the video above for all the forecast details for the Prairies this week.