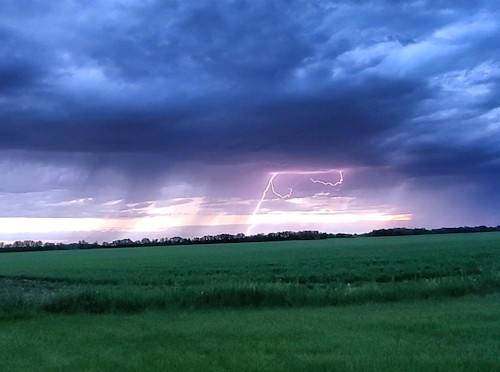 The Weather Network – Conditions for Severe Weather, Tornadoes and Flooding in the Eastern Prairies
Sunday, May 29, 2022, 9:08 a.m. – A widespread risk of severe thunderstorms will end the weekend and mark the start of this week across the Prairies. Southern Manitoba on the lookout for tornadoes. Heavy rains with a risk of flooding will threaten already badly affected areas.
With the end of May being a critical deadline for farmers regarding the growing season, those in southern Manitoba will face a tough decision with the threat of more rain and flooding early this week. This comes with a threat of severe thunderstorms and a tornado watch issued by Environment Canada for Sunday afternoon. The threat of severe thunderstorms extends into northwestern Ontario. More on what to expect on Sunday, Monday and the week ahead, below.
---
DON'T MISS: Swarm of mosquitoes? 6 things to keep them from bothering you
---
SUNDAY: RENEWED STORM RISK KEEPS FLOOD POTENTIAL HIGH AND INVITES TO WATCH FOR TORNADOES
Widespread instability and a trough will bring a risk of thunderstorms to all three prairie provinces throughout the day on Sunday. Conditions are favorable for these storms to become severe in the eastern provinces, with Manitoba and northwestern Ontario being most at risk.
The strongest storms that form could produce heavy rain, large hail and strong gusty winds. Some rotation is not out of the question, especially near the international border, as the most favorable dynamics for severe weather will be in the United States.
Environment Canada issued a tornado watch and severe thunderstorm warnings Sunday afternoon. The tornado watch spans across southern Manitoba, which includes Killarney, Morden, Winkler and the border town of Emerson.
The threat of heavy rain in thunderstorms is particularly bad news for southern Manitoba, which has seen extensive spring flooding.
RELATED: Winnipeg River, Already Flowing at Record Volume, Set to Rise Even Higher
MONDAY: SEVERE WEATHER THREAT RETURNS, POSSIBLE SPINNING THUNDERSTORMS
Another, stronger system will bring widespread rain and thunderstorms Monday afternoon through Tuesday morning. Similar regions are likely to see severe storms, but more so in northwestern Ontario and extreme southeastern Manitoba.
Like Sunday, there will be favorable dynamics near the international boundary for revolving storms such that they could track into northwestern Ontario.
Other possible hazards with any storm that reaches severe criteria include large hail, heavy rain, and strong gusts of wind. For southern Manitoba, the threat of further downpours is unnecessary for areas trying to recover from flooding.
With this next trough hitting the eastern Prairies, this will cause further delays in spring planting, which is already a few weeks behind schedule. May 31 is a critical deadline for many farmers to decide whether they will try to move forward with the season or take advantage of crop insurance.
LOOK AHEAD: COOLER WEATHER AND INSTABILITY ON THE ROAD
Much cooler weather will spread across the region in the first half of this week, with temperatures 5-10 degrees lower than seasonal.
While the eastern Prairies are expected to receive large amounts of rain in the coming days, it will be a different story for the western sections.
A disappointing forecast for southern Alberta farmers over the next week as widespread rains will remain south of the border. With just scattered showers, most will miss the much-needed driving rain.
Model data shows a rather favorable pattern for beneficial rains for the second week of June, but we've seen a lot of false hopes turn into dry forecasts, so that's just something we'll be watching closely for now. .
Thumbnail courtesy of Tara McConnell, taken near Winnipeg, Man.
Be sure to check for the latest weather updates across the Prairies.